Lessons from ICT entrepreneurs to strengthen the national industry
Axede |
22 |
1 min |
560 |
In Colombia it is widely known that the majority of the country's business muscle is concentrated in small and medium-sized companies (Mypimes). For this reason, finding national companies that have been in the country's ICT industry for 20, 30 and even 50 years is an exercise that implies listening and paying attention.
According to the report 'Industry 4.0, business transformation for economic reactivation' Confecámaras, in the country, the group of companies that make up Industry 4.0 had an average growth of 7,7% between 2014 and 2019, going from 17.625 in 2014 to 27.431 in 2019. With the tree of entrepreneurship and an infinity of initiatives that promote the creation of companies within this sector, how can we not die trying?
In Colombia, only 6% of ICT companies are considered 'large' and few have been in business for more than 10 years, according to the ICT Ministry's Digital Economy bulletin. Por eso We spoke with leaders of 3 of the companies with the longest experience in the country, to analyze the evolution of the ICT Industry, the changes, the advances, the challenges and what is still missing. In passing, they left some lessons for entrepreneurs.
Digital Ware: 100% Colombian innovation
Digital Ware is one of the most prominent companies in the national industry, both for the recognition of innovation it has received from the Bogotá Chamber of Commerce, Fedesoft and Andi, as well as for the fact of being a 100% Colombian company , with totally national talent.
Manuel Enciso, commercial and marketing director of Digital Ware, highlights that the company has 28 years in the market and in the beginning he came up with a payroll solution. He claims that the ecosystem was small, the software players were few. «Being 100% Colombian, we know pain, like Colombian law. Therefore, everything is made for regulated markets ", explains Enciso.
And this point highlights it as one of those problems that the national industry has to acquire software and that at the same time is an opportunity: the adaptability of the solution to the laws. External solutions do not always have this adaptation. For this reason, from his company, the solutions, the software, are made for the national idiosyncrasy, says Enciso.
On the other hand, it highlights the vision they have had from the beginning: «NoWhat we have always tried to do is sail in a blue ocean and not in a red ocean ». With this, he refers to a business theory that identifies the red ocean as that of lethal competition between companies, while the blue one seeks to expand the market through innovation.
Enciso is optimistic and believes that Colombia is already a benchmark for the ICT industry in Latin America. «I would dare to say that we are the third country, behind Brazil and Mexico. We are a hub of the Fourth Industrial Revolution. This makes us begin to cultivate these issues more and to believe in this industry ». And regarding the plan of being or not a Silicon Valley, he believes that more than adopting a model, the country must adapt to what the world has been demanding since the Fourth Industrial Revolution and from the consumption of emerging technologies.
And yes, talent is a huge challenge. For this reason, although he adds that there should be more incentive, he shares that the industry is doing what is necessary as well, but scholarship and other incentives, by the government and academia, must continue to be maintained and promoted.
«I think that technology and what we see today makes it have a little more attraction for new generations. If the government and institutions can support that, great. Today there are more universities getting into this story [of virtual education] as a result of the pandemic, it is easier to study virtual engineering than virtual medicine.Lessons to record:
Products are not built and later positioned or sold. «First you identify a need, and then if you start building a solution that solves it. Products that fail because there is no identifiable need. If you start the other way around, you are doomed..
Lose the fear to innovate. «One of the things we have to do isrisk doing different and disruptive things. The big ones are because they have lost that fear. ".
Vision Software: company vision
About us Vision Software started 32 years ago, in a relatively nascent sector. "There were few companies with software products developed in Colombia. In hardware, there were marketers »recalls Mario Mejía, director of development and innovation of the company. At that time, software developments were mainly oriented to the accounting sector.
For this reason, its creators decided to form a company that would develop new products for business, administrative, financial and other types. «But we were just out of college with zero trajectory ", Mejía adds.
Later, companies such as Microsoft and Oracle began to arrive in Colombia (IBM had been in Bogotá since 1937); This brought, according to Mejía, a democratization of the industry, because a stronger current of technology marketers began to develop. Precisely, this arrival gave a boost to Vision Software, when starting a relationship with Microsoft in 1992. "We were touched by the wave in which technologies were arriving in a more affordable way"says the executive.
32 years ago, the ecosystem was small, there were few players who provided and developed software, which in fact was «very basic and with rustic tools », remembers Mejía. And here is one of the great opportunities: «Today we have access to any amount of technology, from anywhere in the world, instantly. We can do more sophisticated things », adds.
On this tour, remember that important incentives have been given. «Over there in the Pastrana government, there was an online government initiative that greatly encouraged state entities to modernize and generated a lot of demand, generated jobs for many companies. But they are timid initiatives. I believe that the growth of the industry in Colombia has been more a consequence of the modernization that the same companies have had to have, rather than an intentional issue on the part of the State. It has been a dynamic more generated from the same entrepreneurs and consumers of technology. This does not mean that there was no state support »says Mejía. He adds that initiatives such as VAT exemptions and other incentives have contributed, but although there has been support, it has not been as strong. «We do not have a Silicon Valley, there is no robust ecosystem. There is still much to improve, in terms of promotion.
Regarding the plan to turn Colombia into a Silicon Valley, Mejía believes that it is necessary to do 2 things. First, take the successful experiences from abroad, such as the United States, Barcelona or London, to take what can be emulated. And secondly, understand that we have other types of limitations. «For example, in basic and scientific education. Getting mathematicians is extremely difficult. We see that the educational system is not in that direction, not even from secondary or university education »Mejía reflects.
However, there are occasional opportunities. In his opinion, the fact that there are other collateral industries, in which Colombia is strong, is an issue that should not be ignored. «Collateral industries allow us make good synergies. We are powerful in terms of call centers and around this we can generate very good quality technologies. We are powerful in mining, in coffee growing. If we leverage ourselves in other industries in which we are powerful, we can generate very relevant technology »He says.
In that order of ideas, the biggest challenge that Mejía identifies is education, talent, the difficulty of finding trained and interested people in the industry. «We have a youth that likes technology a lot, but to play ». He adds that to this is added the challenge of bilingualism, a point that also highlights Verónica Echeverri, manager of exports of industries 4.0 in Procolombia. Mejía adds: "Here we believe that we have advanced, but that is not so true. I live it every day in the company, in the meetings there are few people who can participate. People understand but cannot express themselves, and that greatly limits the progress of the industry, because this is an industry that operates in English ».
Another challenge that stands out: "We are very parochial, we think very small. This has been changing, but slowly, we are increasingly looking abroad, targeting global markets.Lessons to record:
To the extent that you have good partners, you have a better chance of getting ahead. "And I am not just referring to the shareholders with whom I made the partnership, but I am also referring to the external partners", to the allies.
Open the head. «We engineers very easily fall into sectarianism, to tie ourselves to a single technology ». Mejía invites precisely not to fall into that.
In response to this parochial vision, he believes that if a project is started in this sector, it must be seen as just that, as a company, not as a business to survive: «It is not that I am doing an undertaking to make a living from this, but that it must be a company with a projection. You have to start with a business vision ».
Axede: 50 years in 'the game'
Simon Sinek is a world renowned author and lecturer, especially for his book on the infinite game, a concept that is related to the business world and leadership, and that contrasts with the end game or finite game. And one of the cases that best exemplifies this dynamic, this game, is that of Axede. In fact, the "Stay in the game" was one of the most recurrent phrases of Liliana Carreño, president of Axede, when speaking with Impacto TIC.
The evolution of Axede is long, we have more than 50 years in the market. We were born into ITT, which were the black pay phones you called on. Then we became Alcatel, but then fiber optics arrived. In 2000 that boom of The fiber made many companies go bankrupt and that is when large companies began to have great impacts, some disappeared, others merged.

Liliana Carreño, president of Axede.
However, that tree and the boom of the 2000s, the company was seriously affected after the bomb in the Club el Nogal. A negotiation would take place that day, but, Lililiana recalls: «everyone ran out of the country ». Investment plans fell apart.
It was a critical moment, but life went on, business went on. In the case of Axede, an evolution began, integrating more products, not only from Alcatel, but also from other manufacturers, and solutions from contact center and video conferencing. It is worth noting that at this time it was Alcatel Business Distribution, and in the midst of that evolution it was renamed Axede. The name came after a brand study, in which the recurring word, both from customers, as partners and suppliers, was 'accessibility'.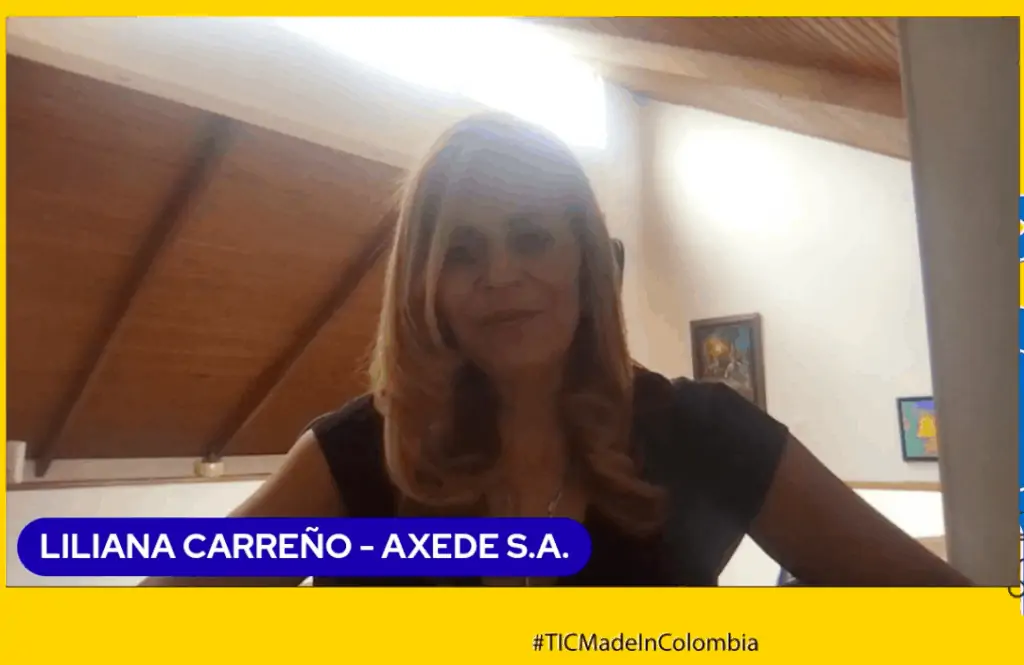 In the midst of that transformation, the first R&D department (innovation and development) arrived, and the creation of a totally innovative experience at the time: the unified desktop. A solution, which, as its name suggests, integrated solutions into the workplace. With this development, the company went to Connect, a fair that was held in January; there was Axede, along with industry greats like Cisco, Avaya and Microsoft.
Carreño remembers that he had a stand there, and managed to get the attention of all these tech giants; interviews were conducted and everyone was told what their unified desktop was all about. "Maybe it was a beginner's mistake", confesses. A year later, at the same fair, the greats of the industry arrived with a similar product, the CEPB, 'Communication enable business process'. Carreño recalls: "It was the sencation of the moment, the integration of solutions on the desktop".
Then came the dark ages. Discussions in the company, differences and finally a fragmentation. «The momentum was lost, 5 years of that beautiful evolution that we brought was lost, from the technological and economic aspects », says Carreño, referring exactly to the period between 2011 and 2016. Period in which she and other people left the company.
Upon his return, in 2017, he received a company that, having been a market leader, was bankrupt. It had debts of more than 58.000 million pesos (between 38.000 million that it owed to Dian, 10.000 million to banks, 9.000 million to suppliers and 1.000 more to employees) and a negative equity of 11.700 million pesos. «It was a company to liquidate», recalls Carreño.
But that was not what happened. On the contrary, he initiated the recovery plan. Axede was accepted into law 1116 of financial restructuring, in record time. Actually, By the end of 2020, the debt went from 58.000 to 15.000 million pesos, and the company has a positive equity of 3.500 million pesos.
In this time, 4 long years, Axde It has created around 10 products and now has an R + D + R + D department: Innovation plus development, innovation plus differentiation. Because, in Carreño's words: «Investigate and develop, if you do not create a product that generates a real impact, that makes a differentiation in innovation issues and that this product hits the client's strategy, generating differentiation, because you are not doing anything. Research, develop, but make sure you create impact with innovation and impact with differentiation of that product«.
At the end of this master class With Carreño, the big lesson is how to stay in the game. «We have been talking about Digital Transformation and the Fourth Industrial Revolution for more or less 3 years. Well, let's do Digital Transformation with strategy. Let's develop products that generate value to the client's strategy. That the products are not the copy of something, but the generation of value of something ", adds. From that thesis, its perspective on the national industry can be understood, the point is that it generates value.
For Carreño, what the Colombian ICT industry lacks is to believe in itself. "We believe that what we do is as good or much better than what any foreigner does. It is necessary to give the vote of confidence to the national industry ", concludes.Lessons to Record
Stay in the game. «Staying on top of creating, changing, generating value, doing different things«.
Clear, defined and consistent strategy. «Persist in it, you have to make up the story, believe it and make people believe in that strategy«.
Permanent innovation. «Keep innovating and creating, but you can't do it if you don't have a strategy behind you, if you don't have an objective behind you and if you don't have a clarity that this innovation is going to generate a real impact for someone in particular ".
Play at not standing still. "Not because you were born as an integrator are you going to stay as one; We were born as integrators, but today we are manufacturers ».
Align the work team. "Starting with the management team, because if it is not behind the same objective, it cannot be done. But it aligns everything together, because all the companies of the company are vital ».
Believe in the team.«You have to believe people. Make people part of that strategy.
Let go of the people. «Trust, there is no better team than the one you have decided to have. There is no better person for the position you have decided than the person you decided; then trust that person, let him go, let him walk, give him the tools… it is difficult, but it is key in the game ».
Trial and error are key. «You don't always win, you don't always go well. But you learn from that. The worst thing is that the error remains in failure and does not take an apprenticeship to move on ».
Don't be afraid to communicate. «To the market and customers, tell it openly and trust that what you are doing has a meaning and a direction and you chose it for a reason.
You have to invest. "You cannot get a result if you are not willing to invest in money, time, and image".
Source: https://impactotic.co/en/lessons-from-ict-entrepreneurs-to-strengthen-the-national-industry/